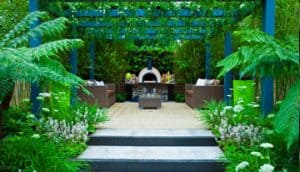 A comprehensive online course designed to give you the skills and knowledge you need to work professionally as a Garden Designer.
You'll work through carefully structured material to develop your understanding of design principles and learn how to apply them in practical situations. You'll also learn how to work with clients and market your garden design services effectively. Throughout the course, you'll work with an expert tutor who is an experienced garden designer.
Carefully Designed to Meet Your Training Needs
In preparing this course we followed guidelines on preferred course content from the Society of Garden Designers (SGD) closely. As a result the course has a strong emphasis on practical design work, but also covers essential garden design theory. Students can join the SGD as student members whilst studying the course and once they have completed they may work towards full designer membership.
Course Summary
Subjects covered include: practical garden planning and design; key design techniques; latest trends in garden design; selecting new materials and techniques; understanding soil; working with clients; harmony and cohesion; creating a sense of place; key styles – Minimalist, Mediterranean, Urban and Oriental; materials and styles; assessing the site; selecting and arranging plants. With many garden plans and three-dimensional design sketches.
8 study modules and assignments, all delivered direct to your inbox.
One-to-one tutor support.
Flexible training, allowing you to study at computer or laptop at any time.
Up to 12 months to complete your course.
Affordable – you can choose to pay by instalments if you wish.
Students can apply for student membership of the Society of Garden Designers.
Retrain for a new career or develop new work skills in just three hours a week!
One-to-one support from one of our expert tutors. All of our tutors are experienced garden designers. 
Very much enjoyed the course! It covers a lot of material and the assignments are challenging but interesting and I felt built my skills quickly. The tutor feedback is always honest and constructive, which I think is essential if you're preparing to work professionally. the course really built up my confidence too. Excellent support team, always happy to answer questions.

Louise Poole
Garden Designer

Accredited Qualification
Diploma in Garden Design – Edinburgh Garden School
​
Course Outline
Module 1 – Basics of Design: Key elements. Introducing the survey. Analysis. A working plan. Zoning. Surveying and drawing equipment. Understanding client needs.
Module 2 – Strong Foundations: The finished design. Presentation techniques. Drawing plans. Sections and elevations. Planning irrigation and drainage. Marking out. Planning your first garden.
Module 3 – The Site Survey: Carrying out a detailed survey. Drawing a site plan. Site inventory and analysis. Garden layout plan. Landscape and existing features. Climate. Trees in garden design.
Module 4 – Selecting and Using Plants: Selecting plants (trees, plants and crops) to suit location, consideration of scale, position, facilities and features. Planting density. Planting plans. Considering function. Associations between plants and other features. Interior landscapes.
Module 5 – A Sense of Place: Exploring meaning and experience. Creating a sense of place. Engaging the senses: sight, hearing, smell, taste. The role of essential oils in the garden. Colour theory in garden design. Creating visual impact. Understand light and colour in the garden. Gardening for sensory impairment. Ideas from horticultural therapy. More on presentations to clients: 3D presentations, CAD. Legal issues in design.
Module 6 – History of Garden Design: Early history of gardens. Ancient East: hanging gardens of Babylon, Persian paradise gardens. Egyptian gardens. Roman gardens. Medieval garden design. The Renaissance garden: high renaissance, Carolus Clusius, French influences, André le Nôtre. The Elizabethan garden. The Restoration. Georgian and Regency gardens. Victorian gardens: gardenesque, floral bedding, Joseph Paxton. Edwardian influence. Key designers: William Robinson, Gertrude Jekyll, Vita Sackville West, Edwin Lutyens. The Arts and Crafts movement. The war years. Modernism and landscape architecture.
Module 7 – Eastern Garden Design: Explore Eastern ideas on the role of the garden. History and principles of Chinese and Japanese garden design. The aesthetics of imperfection. Creating the fusion garden. Design Project Part A.
Module 8 – Running Your Own Design Practice: Legal issues involved in setting up a design practice. Possible structures for your business. Planning your business. Developing key personal skills. Growing your team. Working with subcontractors. Health and safety issues. Understand the needs of your customer/client base. Learn how to understand and research your marketplace. Identify the most effective marketing approach for your business. Explore the opportunities offered by Internet marketing. Continuing professional development. Design Project Part B.
Add Printed Notes
Your course material is delivered in a .pdf format directly to your inbox. You can then save the modules to your computer, so you can study when offline. You can also print your course material off if you wish.
If you prefer, you can order a printed copy of the course notes from EGS. These are despatched in large, A4 binders and delivered by courier.  The cost is £70 including courier fees.
You will be offered the option to purchase a printed copy of the course notes after enrolment, but you can order them at any time during your course. This offer is only available to students currently enrolled on the course.