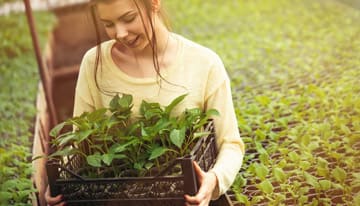 Includes all study material, supplementary reading, and full tutorial support. Exam revision support is included in all of our exam courses, and includes past exam papers and one-to-one tutor support right up to the exam. At the end of each course you will be ready to sit the relevant RHS Certificate exams, which you can do at an authorised examination centre in your area. (There is an additional fee for the examinations.) You will also receive a Certificate of Course Completion from EGS.
Students have up to three years to complete all three courses – 12 months per course!
When you become a student you're assigned an expert personal tutor who you can contact at any time by email and who will work with you throughout your course. A member of our team is also available by instant chat between 9 am and 9 pm, 7 days a week, to answer any questions you might have at time to suit you.
I chose the combined course because I was keen to complete both the Level 2 and Level 3 certificates quite quickly. It was a good, economical option and the courses and support are of an excellent quality. You can take up to 3 years to complete all three courses, although personally I was able to complete in just 2 years.

Diane Young
RHS Level 2 & Level 3 Student                 
Book Now – Online course only £595
The first batch of course material will be delivered within 2 hours* and you can then begin working through the material, print it off or save it to your computer. (*7 days a week, between the hours of 5am and 9pm uk time only; at other times we'll send through your material as soon as we get back to our desks!)
Terms & Conditions
Add Printed Notes
Your course material is delivered in a .pdf format directly to your inbox. You can then save the modules to your computer, so you can study when offline. You can also print your course material off if you wish.
If you prefer, you can order a printed copy of the course notes from EGS. These are despatched in large, A4 binders and delivered by courier. The cost is £70 per course including courier fees (£210 for all three courses).
You will be offered the option to purchase a printed copy of the course notes after enrolment, but you can order them at any time during your course. This offer is only available to students currently enrolled on the course.