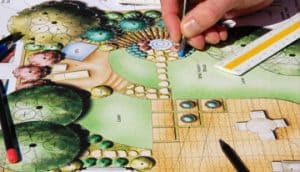 This is an advanced online course preparing students to sit the RHS Level 3 Certificate in the Principles of Garden Planning, Construction and Planting.
The course includes all required study material, supplementary reading and full tutorial support (including revision support right up to the exam). Course material is delivered as pdf files that are sent directly to your email address. You can also add optional printed workbooks to your order.
The course is ideal for those wishing to pursue a career in professional horticulture, as well as those already working in this field. It provides a good foundation for higher level study. Keen amateurs will also find this a rewarding and informative course. We recommend that students have some previous training or experience, either an RHS Level 2 Certificate or a similar qualification, before starting this course.
This qualification provides a natural progression from the RHS level 2 qualification. At the end of the course you will be ready to sit the RHS Level 3 Certificate in the Principles of Garden Planning, Construction and Planting, which you can do at an authorised examination centre in your area. (There is an additional fee for the examinations.) You will also receive a Certificate of Course Completion from EGS.
Your tutor will provide personal support and advice to help you complete your assignments and prepare effectively for the exam.
Really enjoyed the course! It covers the syllabus well and is presented in a logical way that makes it easy to follow. Fab from enthusiastic tutors and knowledgeable online support.
Lisa Wong
RHS Level 3
When you become a student you're assigned an expert personal tutor who you can contact at any time by email and who will work with you throughout your course. A member of our team is also available by instant chat between 9 am and 9 pm, 7 days a week, to answer any questions you might have at a time to suit you.
Accredited Qualification
RHS Level 3 Principles of Garden Planning, Construction and Planting.
​
Course Outline
Study topics covered include: garden survey techniques; design principles; selecting and understanding landscaping elements; setting out and construction of landscaping elements; specialist design elements; urban planning.
Module 1: An Introduction to Garden Design and Site Assessment.
Module 2: The History of Garden Design.
Module 3: Hard Landscaping and Garden Structure.
Module 4: The Role of Soft Landscaping.
Module 5: Practical Foundations of Design.
Module 6: Hard Landscaping Construction.
Module 7: Designing Specialist Elements.
Module 8: Urban Gardening.
The first batch of course material will be delivered within 2 hours* and you can then begin working through the material, print it off or save it to your computer. (*7 days a week, between the hours of 5am and 9pm uk time only; at other times we'll send through your material as soon as we get back to our desks!)
Terms & Conditions
Add Printed Notes
Your course material is delivered in a .pdf format directly to your inbox. You can then save the modules to your computer, so you can study when offline. You can also print your course material off if you wish.
If you prefer, you can order a printed copy of the course notes from EGS. These are despatched in large, A4 binders and delivered by courier. The cost is £70 including courier fees.
You will be offered the option to purchase a printed copy of the course notes after enrolment, but you can order them at any time during your course. This offer is only available to students currently enrolled on the course.