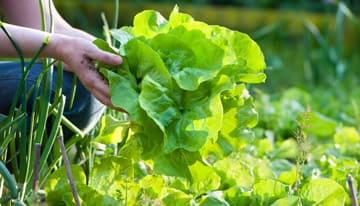 A comprehensive introduction to organic gardening. Learn how to apply organic principles in your garden and greenhouse.
This 6-module online course explores principles of organic gardening in depth, and considers how these ideas can be applied in practice. Includes all course materials, supplementary reading and full tutorial support. Course notes are delivered in a pdf format directly to your email address. You can also choose to buy a printed copy of the course notes.  add optional printed workbooks to your order.
Students have up to 12 months to complete this course, allowing them to work through the modules at their own pace.When you become a student you're assigned an expert personal tutor who you can contact at any time by email and who will work with you throughout your course. A member of our team is also available by instant chat between 9 am and 9 pm, 7 days a week, to answer any questions you might have at time to suit you.
Accredited Qualification
Edinburgh Garden School Certificate in Organic Gardening
Course Description
Module 1: Introduction. History of the organic movement. Organic gardening and the environment. Health benefits.
Module 2: Composition of soil. Deficiency symptoms. Soil conditioning. Organic matter. Humus. Soil organisms. Organic manures. Digging methods.
Module 3: Organic cultivation of fruit and vegetable crops. Propagation, seed/seedling sources, pruning, maintenance, harvesting. Selecting and cultivating herb species. Greenhouse gardening.
Module 4: Pests and diseases 1. Biological control, crop rotation, companion planting, protecting fruit and vegetables.
Module 5: Conservation and the gardener. Encouraging wildlife. The garden pond – maintenance, care, stocking.
Module 6: Bringing it all together. Planning your organic garden. Your maintenance plan. Accreditation. Suppliers
This is an involving home study course for students who would like to know more about organic gardening and apply organic principles in their own garden, greenhouse or allotment.
Len Johnson
Tutor
Add Printed Notes
Your course material is delivered in a .pdf format directly to your inbox. You can then save the modules to your computer, so you can study when offline. You can also print your course material off if you wish.
If you prefer, you can order a printed copy of the course notes from EGS. These are despatched in large, A4 binders and delivered by courier. The cost is £70 including courier fees.
You will be offered the option to purchase a printed copy of the course notes after enrolment, but you can order them at any time during your course. This offer is only available to students currently enrolled on the course.