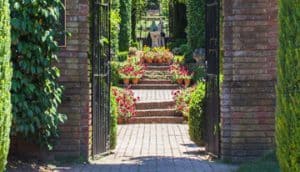 This 6-module home study course provides an in-depth exploration of historical garden design, showing you how to create a garden that is both authentic and entirely in-keeping with an historical home. The course covers every step in the process, from first research to selecting and sourcing authentic hard landscaping materials and plant varieties.
Subjects covered include: history of garden design; historical homes in context; planning and design of the historical garden; planting plans; key species of each period; hard landscaping materials in historical context; sourcing authentic materials; selecting appropriate alternatives; historical horticultural techniques.
Whether your goal is to learn how to renovate a period garden, recreate a garden, or complement your general garden design skills, this course is ideal.Our course is composed of 6 easy-to-follow modules. There are 6 tutor-marked assignments. It involves approximately 36 hours of study time.The course is packed with practical tips and ideas. It includes advice from horticulture and garden design experts. In addition the course explores the latest research in this field.
When you become a student you're assigned an expert personal tutor who you can contact at any time by email and who will work with you throughout your course. A member of our team is also available by instant chat between 9 am and 9 pm, 7 days a week, to answer any questions you might have at time to suit you.
Loved this course! I've found myself increasingly working on period gardens and this seemed an ideal choice. A supportive tutor and well-informed online advisers made all the difference.
Shirley Wise
Heritage Horticulture                 
Accredited Qualification
Edinburgh Garden School Certificate in Heritage Horticulture
The first batch of course material will be delivered within 2 hours* and you can then begin working through the material, print it off or save it to your computer. (*7 days a week, between the hours of 5am and 9pm uk time only; at other times we'll send through your material as soon as we get back to our desks!)
Add Printed Notes
Your course material is delivered in a .pdf format directly to your inbox. You can then save the modules to your computer, so you can study when offline. You can also print your course material off if you wish.
If you prefer, you can order a printed copy of the course notes from EGS. These are despatched in large, A4 binders and delivered by courier. The cost is £60 including courier fees.
You will be offered the option to purchase a printed copy of the course notes after enrolment, but you can order them at any time during your course. This offer is only available to students currently enrolled on the course.