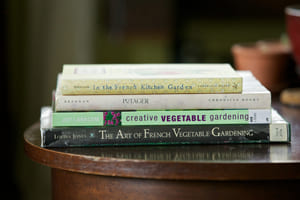 Tell us about your favourite gardening books and we'll add them to our list. Here is a selection of favourites from our gardening and horticulture tutors:
Around the World in 80 Gardens, Monty Don.
A Little Piece of England A tale of self-sufficiency, John Jackson;
The Curious Gardener, Anna Pavord;
The RHS Allotment Handbook – The Expert Guide for Every Fruit and Veg Grower, Royal Horticultural Society
The Healing Garden : gardening for the mind, body and soul, Gay Search
Jewel Garden: A Story of Despair and Redemption, Sarah Don and Monty Don
The Complete Gardener, Mont Don
My Secret Garden, Alan Titchmarsh
The Complete Countryman A User's Guide to Traditional Skills and Lost Crafts, Alan Titchmarsh
The Grumpy Gardener's Handbook, Ivor Grump
New Urban Farmer, Celia Brooks-Brown
On the Plot with Dirty Nails: A Practical Guide to Fruit and Vegetable Gardening, Joe Hashman
Creating a Forest Garden: Working with Nature to Grow Edible Crops, Martin Crawford
Minding My Peas and Cucumbers Quirky Tales of Allotment Life, Kay Sexton
How to Make a Wildlife Garden, Chris Baine
Best titles for RHS Studies:
Plant Growth
Science and the Garden, David Ingram and Daphne Vince-Prue;
Botany for Gardeners, Brian Capon;
RHS Botany for Gardeners: The Art and Science of Horticulture Explained and Explored, Geoff Hodge;
Garden Planning
The Essential Garden Design Workbook, Rosemary Alexander;
John Brookes Garden Design Course, John Brookes;
RHS Vegetable & Fruit Gardening, Editor – Michael Pollock.
General
The RHS Encyclopedia of Gardening, Christopher Brickell;
Principles of Horticulture: Level 2, Charles Adams et al.;
Principles of Horticulture: Level 2, Charles Adams et al..